From Monday 16 to Wednesday 25 November days the Eiffel Tower is lit up in Blue, White and Red to honour victims of the 13 November 2015 Paris attacks. We were there on the last night and here is our report and photos.
---
Following the Friday 13 November attacks in Paris which claimed the lives of over 130 people, the Eiffel Tower dimmed its lights in mourning on Saturday and Sunday nights. The monument stayed closed until Monday morning. France's culture minister, Fleur Pellerin, declared in a statement last Sunday night: "In tragic moments that pass over France, culture is more than ever the symbolic place of discovery for oneself and others".
Then for ten consecutive nights the usual uniform glow of the Eiffel Tower gives way to a spectacular Blue-White-Red display. The celebrated 116 year-old monument is lit up in the colours of the French flag in tribute to the victims of the November 13 Paris attacks.
The Mayor of Paris, Anne Hidalgo, requested that the Eiffel Tower be lit up in the colours of the French national flag in honour to the victims of Paris attacks echoing the show of sympathy with Paris around the world. In the aftermath of the tragedy, many famous world monuments were lit up in the colours of the French flag including the One World Trade Centre in New York City, the CN Tower in Toronto, the Oriental Pearl TV Tower in Shanghai, the Wembley Stadium in London, the Sydney Opera House, and the statue of Christ the Redeemer of Rio de Janeiro.
The Latin motto of the City of Paris is displayed just under the first level on he side facing the Trocadéro: Fluctuat Nec Mergitur ("She is tossed by the waves but does not sink").
The special display was initially scheduled for three nights only: Monday 16, Tuesday 17 and Wednesday 18 November 2015 and extended by request of the Mayor of Paris until Wednesday 25 November.
For the first time since last Friday attacks, we were back to the French capital. The atmosphere at the Trocadéro and Champ-de-Mars was really different from any 'normal' days. People were quietly taking photos while admiring the unique light display on the Eiffel Tower.
When we arrived at the Trocadéro around 4.15pm, there were already many photographers, amateurs and professionals, with their tripods patiently waiting for the sunset and the 'blue hour'. We talked to some of them and it was a great moment to share about what had recently happened in Paris, from the terror attacks to today's incursion of the French police in Saint-Denis. Later we befriended Véronique by the banks of the River Seine who had come to admire the illuminations. Little by little the city became more personal and it was obvious people had a certain need to talk, even to strangers.
Here is a selection of our photos taken tonight, Wednesday 18th November 2015 from 4.30pm to 7pm: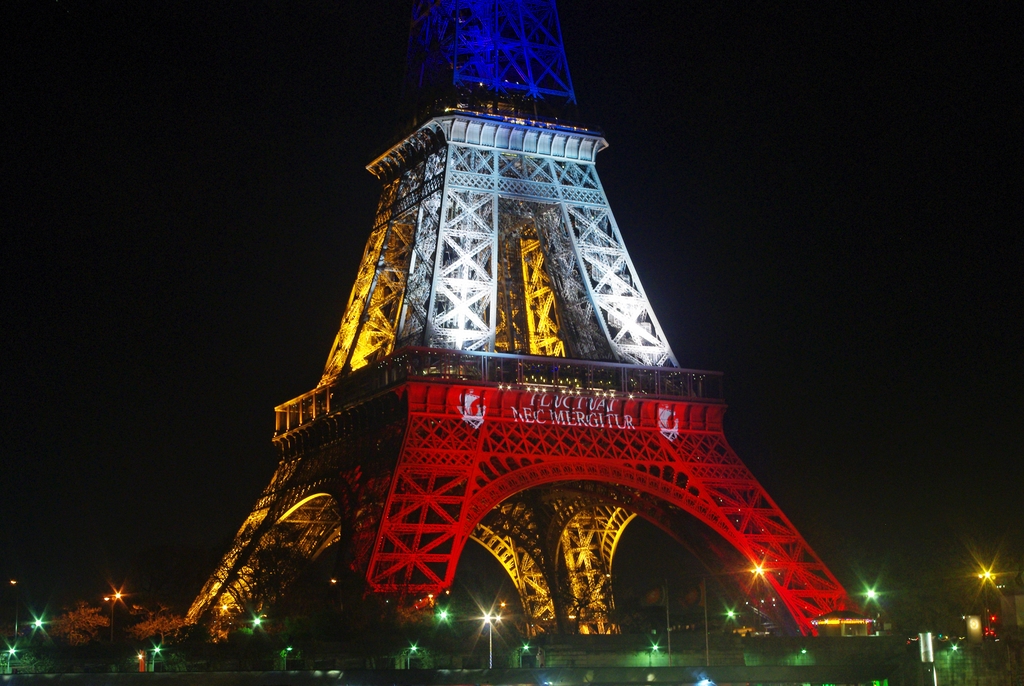 ---